Labor Day Weekend
September 3-5, 2022
Fremont Park, 16th & Q Streets, Midtown Sacramento


Music will fill the air at Fremont Park as local artists fill the sidewalk with stunning chalk paintings on the sidewalks around Fremont Park and "Around the Town" throughout the streets of Downtown and Midtown Sacramento at the 32nd Annual Chalk It Up Festival! We are now accepting sign-ups for sponsors, artists, food and craft vendors, and musicians.
Thank you to our 2021 Festival Sponsors
Chalk It Up! Chalk Art & Music Festival
Since 1991, the Chalk It Up! Festival has been delivering fantastic family fun and has become one of the longest-running and most popular festivals in the Sacramento region. In recent years our three-day Chalk It Up! Festival has amassed crowds of over 60,000 people who come to enjoy the hundreds of sidewalk chalk art masterpieces, live music, vendors, and more.
Last year, for our 30th Anniversary, we changed the Chalk It Up! Festival in accordance to local, state, and federal guidelines. "Chalk It Up! Around Town!" was a way to celebrate arts and artists and stay safely distanced by bringing the chalk art to life on sidewalks, parking lots and driveways throughout the greater Sacramento region and featured three-days of Sacramento live music streaming with local artists who shared their talents from our virtual stage.
This year, for our 31st Chalk It Up! Festival we are bringing it all together. Chalk It Up! Chalk Art & Music Festival will be at Fremont Park and Around the Town!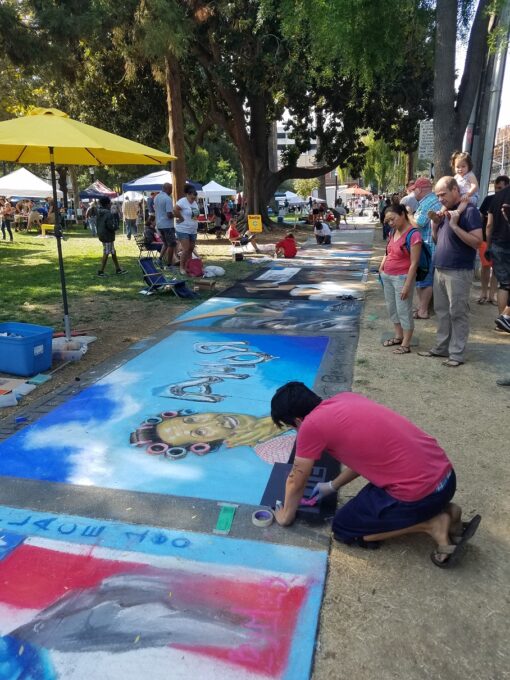 At our Fremont Park home we will have sponsored chalk artists, plus live local music, local food and craft vendors, and plenty of refreshments and fun for all generations.
Throughout Sacramento there will be sponsored chalk artists at local parks, neighborhoods, and throughout business districts to share the celebration!
There are many ways to get involved. Sponsor, Volunteer, or just help to spread the word in support of our mission to empower and support the next generation of Sacramento artists and the programs that inspire them!
Health and Safety
As protocols continue to evolve regarding public safety, mask and social distancing guidelines, and outdoor public gatherings, our plans evolve as well. We will continue to monitor local and state public health guidelines and will update requirements for attendees prior to the festival dates on our website and social media pages. In the meantime, please help us to keep moving in the right direction by wearing masks when required and get vaccinated as soon as you can!
COVID-19
An inherent risk of exposure to COVID-19 exists in any public space where people are present. By attending Chalk It Up Festival you expressly agree to comply with any and all rules and safety guidelines put in place by the event organizers, and voluntarily assume all risks related to exposure to COVID-19, waiving all claims and potential claims against the event organizers, and their affiliated companies relating to such risks. Attendees and participants expressly agree to comply with all Federal, State, and Local laws, ordinance, regulations, and the rules of the Event Organizers when attending the event.