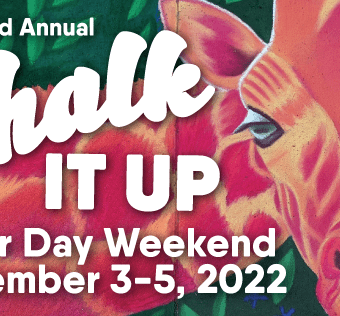 Thank you to everyone who joined us for the 2022 Chalk It Up Festival. Please SAVE THE DATE: September 2-4, 2023!
PUBLIC TRANSPORTATION: Sacramento Regional Transit, aka Sac RT, not only is a sponsor of the Chalk It Up Festival, they are offering FREE public transportation to and from the festival over the weekend! Just click the link below to plan your route and get the information, show it to your bus or light rail fare collector, and you and your group are good to go!
LINK TO SAC RT FREE RIDE TO CHALK IT UP
BIKE PARKING: SABA will be providing complimentary bike valet parking, courtesy of our valued sponsor, Sutter Health. Leave your worries behind with your bike while you enjoy the festival! (Tips for your bike valet are happily accepted!)
CAR PARKING: The SP+ Parking Lot, located at 1515 R Street (just a block away!) is offering a flat rate of $10 per day between 10 am and 6 pm.
The Chalk It Up! Chalk Art & Music Festival is a three-day celebration of local artists and the arts community — one of the last of the free, family-friendly festivals in Midtown Sacramento.
Since 1991, we have hosted a safe and clean festival at Fremont Park at 16th & Q Streets in Midtown Sacramento where the community can listen to live local musicians, patronize local craft, maker, and food vendors in the marketplace, and watch local artists turn the sidewalks around Fremont Park into colorful works of art. This is part performance art, as the artists are creating the work during the festival.
Community members come from throughout the greater Sacramento Valley region several times over the 3-day weekend to watch the art work come to life. Kids of all ages are inspired after a walk around the outside of the park to admire the work of these professional artists, so we supply buckets of sidewalk chalk for folks to use to experiment on the interior walkways of the park. The Chalk It Up Festival is a Sacramento tradition, a gift to the community, and we've kept it 100 percent free to the public for over 31 years.
CHALK ART
Street painting, using chalk as the medium, is an Italian tradition that is believed to have begun during the 16th century. It is called "Madonnari" because of their practice of reproducing the image of the Madonna (Our Lady). The early Italian street painters were travelers who would arrive in small towns and villages for Catholic religious festivals and transform the streets and public squares into temporary galleries for their works of art. The Chalk It Up Festival honors this tradition and celebrates the transient beauty of this medium.
While summer in Sacramento is always hot, we are following the local weather reports and the "excessive heat advisory" notifications, and we want to share these "best practices" for a successful Chalk It Up Weekend. Follow these tips to stay cool!
HYDRATION: Stay Hydrated! We have two water refill stations in the park offering chilled, filtered water, with paper cups nearby. PRO-TIP – Bring your refillable water bottle!
SHADE: Wherever possible stay out of the direct sun for long periods of time. There is lots of shade at Fremont Park under those big beautiful trees, including in our relaxation area where you will find one of our water refill stations and plenty of tables and chairs under the trees.
FIRST AID: The Sacramento Medical Reserve Corps will be on site in the center of the park with a first aid tent staffed with first responders as well as "Cooling Tent" for anyone feeling overheated.
FOR OUR ARTISTS: You are welcome to start on your artwork on Friday evening. Take advantage of the cool mornings and evenings at the park for your work so you can relax during the late afternoon heat. We have 24/7 security from Leadstar Security at the park. If you are working after dark we suggest bringing a friend or working in pairs, and please make contact with the security guards on duty so they know you are there. Please keep your water bottles refilled. We have chilled towelettes that we will be bringing around to you during the day.
FOR OUR MUSICIANS: We will have ice chests of bottled water for all our musicians, and have arranged for extra fans on the stage. Fortunately, the stage is shaded for the majority of the day.
FOR OUR VOLUNTEERS: Please bring your water bottles. Feel free to take breaks in the shade as often as you need it. We have chilled towelettes available, and remember to take advantage of that cooling tent whenever you need it.
FOR OUR VENDORS: We will understand if some of you opt to shut down your food or marketplace booths earlier than usual on Monday afternoon. Alas, we cannot have any vehicles enter or exit the park until after 6 pm.
Thank you to our 2022 Festival Sponsors!