The 33rd Annual Chalk It Up! Chalk Art & Music Festival is Labor Day Weekend,
Saturday, Sunday, and Monday, September 2-4, 2023, 10 am – 6 pm, at Fremont Park, 1515 Q Street, Midtown Sacramento.
ADMISSION, PARKING, WHAT TO EXPECT:
Admission to Chalk It Up is Free.
Fremont Park is a full city block, between 15th and 16th, and P and Q Streets, in Midtown, Sacramento. It's one of Midtown's most beautiful parks, with plenty of grass and big ol' trees providing lots of shade. There is a wonderful playground for the kiddos with swings and climbing things. Feel free to bring a picnic blanket or camp chairs to make a day of it!
Artists will begin their Chalk Art Murals on the sidewalks around Fremont Park early Saturday morning and will work on them over the following three days until their masterpieces are completed.
The festival activities inside the park – music, vendors, etc. – open at 10:00 am and close at 6 pm on all three days of the festival – Saturday, Sunday, and Monday.
There will be live local music on the Chalk It Up Stage, sponsored by Taco Bell Cantina, starting at 10 am each day. The Chalk It Up Stage is under one of the big ol' trees on the P Street side of the park, and there is ample lawn space for dancers and lots of shade. You are welcome to bring your camp chairs or picnic blankets, or, visit the Taco Bell Chill Zone for VIP seats and to learn more about our local Taco Bell Cantina, located at 900 K Street in Sacramento. This Taco Bell is the best of the Bell with draft beer and 6 flavors of twisted alcoholic freezes. Thank you to our local Taco Bell Cantina for sponsoring the Chalk It Up Stage!
Be sure to hit up the best selfie spot in the park, the Chalk Art Wall, sponsored by Dignity Health. Dignity Health is proud to partner with Chalk It Up and share in its mission to promote and support youth arts across the Sacramento region.
Local food trucks and food vendors will have all of your festival favorites, from healthy options to frozen treats. We have a shaded picnic area with tables and chairs for you to take a load off and enjoy your meal.
Artists, makers, and local small businesses will be set up to sell in their vendor booths throughout the park – support your local small, independent business by getting a head start on your holiday shopping lists!
The Chalk It Up Beer Garden is the place where our 21 and over guests can enjoy refreshments from some of our best local businesses: Jackrabbit Brewing, Two Rivers Cider, Acheson Wine, and a specialty cocktail from Burly Beverages that is also available in zero-proof form (Mocktail). There are lots of tables and chairs, a big shaded tent with fans, and a great view of the stage.
Kids can visit the Chalk It Up Information Booth to pick up some free sidewalk chalk so that they can Chalk It Up on the interior sidewalks of the park.
Bring your water bottles! There are two water refill stations offering complimentary filtered, chilled water all day long.
The Chalk It Up Merch Tent is where you can purchase tickets for beverages in the beer garden, as well as premium sidewalk chalk, Chalk It Up t-shirts, and more.
Street parking is very limited. The S+P Parking Lot at 15th and R Streets is just one block away, and they are offering a flat rate of $12 for the whole day.
Sac RT is offering FREE bus and light rail service over Chalk It Up Weekend! Visit https://www.sacrt.com/apps/sacrt-free-ride-flyers/ to see the flyer for more information!
Sacramento Area Bicycle Advocates will provide complimentary Bike Valet parking. Thank you to Sutter Health for sponsoring bike parking!
The Sacramento Medical Reserve Corps will be there offering first aid support, and their cooling tent for anyone who feels overheated.
For 33 years we have kept this festival free for the community because of the volunteer artists, volunteer musicians, volunteer workers, donors, and sponsors. It takes a village! By attending the festival, sponsoring a chalk artist, making a donation, patronizing the vendors and the beer garden, or buying a Chalk It Up t-shirt, you are helping us to keep this Sacramento tradition alive! Contact us if you'd like to learn more or get involved!
THANK YOU to our 2023 Sponsors!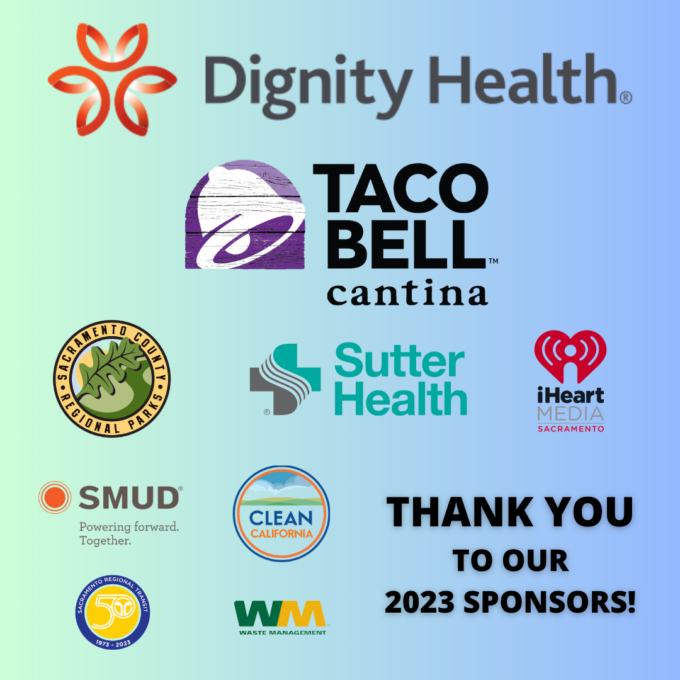 ARTISTS, VENDORS, SPONSORS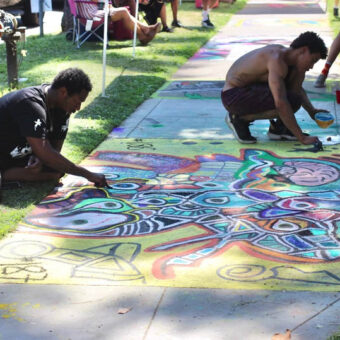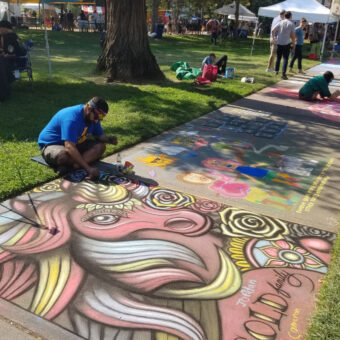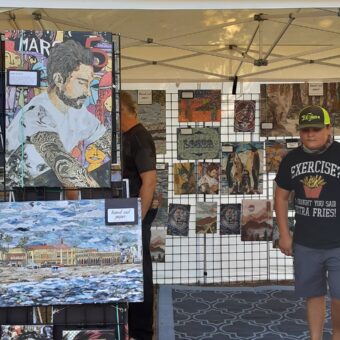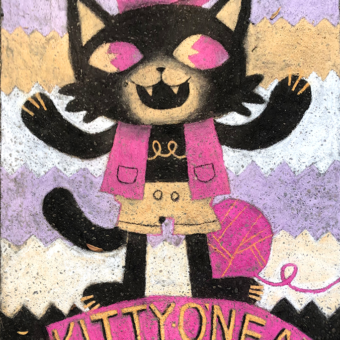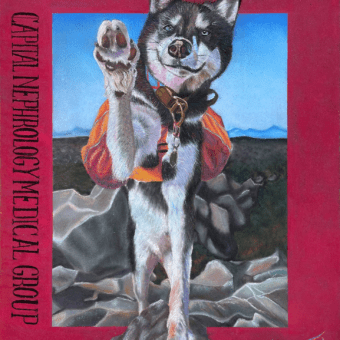 The Chalk It Up! Chalk Art & Music Festival is a three-day celebration of local artists and the arts community — one of the last of the free, family-friendly festivals in Midtown Sacramento.
Since 1991, we have hosted a safe and clean festival at Fremont Park at 16th & Q Streets in Midtown Sacramento where the community can listen to live local musicians, patronize local craft, maker, and food vendors in the marketplace, and watch local artists turn the sidewalks around Fremont Park into colorful works of art. This is part performance art, as the artists are creating the work during the festival.
Community members come from throughout the greater Sacramento Valley region several times over the 3-day weekend to watch the art work come to life. Kids of all ages are inspired after a walk around the outside of the park to admire the work of these professional artists, so we supply buckets of sidewalk chalk for folks to use to experiment on the interior walkways of the park. The Chalk It Up Festival is a Sacramento tradition, a gift to the community, and we've kept it 100 percent free to the public for over 32 years.
CHALK ART
Street painting, using chalk as the medium, is an Italian tradition that is believed to have begun during the 16th century. It is called "Madonnari" because of their practice of reproducing the image of the Madonna (Our Lady). The early Italian street painters were travelers who would arrive in small towns and villages for Catholic religious festivals and transform the streets and public squares into temporary galleries for their works of art. The Chalk It Up Festival honors this tradition and celebrates the transient beauty of this medium.