We are pleased to present the final musical line-up for Chalk It Up 2021!
We where just overwhelmed by the outpouring of support by the local music community for Chalk It Up.  We had nearly 70 different musicians and groups offer to play on our festival stage this year and we are thankful to everyone who expressed interest.  Live musicians are valueable members of of our local artist community and our local arts economy, and we appreciate the beauty and life you infuse into our lives every day. The Chalk It Up festival stage is often the first time kids are introduced to live music.
Thank you to Eli Perry for booking all the bands, Bianchi Sound for running the stage and sound, and Ghost Town Rebellion for loaning us their backline!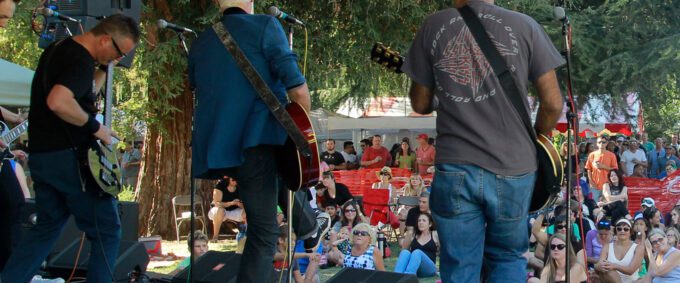 SATURDAY, 9/4/2021
11:00 am – Anemic – Girls Rock Sacramento 

Anemic is comprised of alumni campers and Junior Leaders from the Girls Rock Sacramento summer music education and empowerment program.

11:45 am – The Clemón Charles Band  Born on the island of Barbados, Clemón grew up in a world where music is rooted in all aspects of the culture. With a variety of diverse experience and culture, his music is a melodic infusion of the West Indies, Seattle's Alternative Rock and New Orleans Jazz/Pop. The Clemón  Charles Band is composed of Clemón: Vocals/Guitarist,  Cyndie Birdsong, Shannon McCabe on Background vocals, Elisa Bloom: Keyboards,  Marty Benson: Lead Guitar, Travis Houston: Bass,  and Allen Coy: Drums. Clemón has also performed for the San Francisco Giants, where he sung the National Anthem at Giants Stadium to 40,000 people as well as televised events with the Sacramento Kings.
12:45 pm – virgogabrielle She is an old soul in a fast, new world. Self taught guitarist, producer and vocalist known as Virgogabrielle creates wavy energy with a touch of edge through her compositions. Virgo takes listeners to the dreamland with songs inspired by the metaphysical, while radiating honesty through lyrics coming straight from the heart and soul. Listeners have described Virgo's music on a spectrum of soothing/dream-like to powerful/hard-hitting, encompassing a true duality.  Find virgogabrielle on Spotify, Apple Music, and YouTube.
1:30 pm – Autumn Sky-Hall Autumn Sky Hall (she/her/they/them,) is a queer, award winning folk rock artist from California. She began her writing and eventually touring at 15, in 2005, releasing "Diminutive Petite," an EP, and "All Which Isn't Singing," an album, right out of high school.
Her instrumentation and performances range from intimate, heartfelt singer-songwriter musings in solo shows to full instrumentation with a band that can range from indie, folk rock and bluegrass. She's know for special collaborations with other bands in the community, and even once featured a full brass section for awhile, taking inspiration from 1930's traditional folk instrumentation. Between the ages of 15 and 32 she's played over 500 gigs, shows and events.
Autumn was the youngest-ever person to be inducted into the Sacramento community awards, the Sammies, Hall Of Fame in 2024. She's played at at Bottlerock (opening for Heart,) Powerhouse Pub (opening for Manchester Orchestra,) TBD Fest, Launch Fest, Crocker Art Museum, Sundance Film Festival and at the Napa Theater opening for Bauhuas's Roger Murphy. She's been a staple in Northern California, Napa Valley and San Francisco for almost two decades.  In the last few years, Autumn was a cast member on Brews & Reviews, writes articles about music and takes photography for TUBE magazine and was the open mic host for Old Soul Coffee, LowBrau and Tower Brewing (which was a safe space for marginalized creatives that raised money for NorCal resist and the Sacramento Gender Health Center). In her personal time, she's working on painting, styling for bands/shoots, being a full time childcare taker AND still having time to grow a garden and feed Luna, her cat.
Her latest musical additions have been two releases, "I Woke Up" from the Camp Sounds project she was on to raise money for Camp Pollock, and "My Anxious Brain & My Broken Heart," her favorite tune written to date. She and the band are currently in practices and in recording sessions around town to keep the creativity alive, currently writing the next musical chapter based on taking old fashioned folks themes and making them more diverse, accessible and queer.
2:30 pm – For Sale
3:30 pm – Ghost Town Rebellion The Ghost Town Rebellion, formed in 2013, featuring the Songwriting talents of Shawn Peter, Mike Shively, Jamey Shidler, with musical talents of Jacob Crain, Eddie Roa, & Chelsea Baker, have created a style their fans call GRIT ROCK, which combines the Musical Styles of Grunge, Blues, & Americana. Constantly touring and either headlining their own concerts and have opened for international Acts as Parmalee, 10,000 Maniacs, The Alarm, Chuck Reagan, Metalachi, and many more. The Ghost Town Rebellion, have 2 full length Albums, 2 major label singles on Gateways Records "I'm on Fire" & original "Diamond Queen", and their 3rd full length' Eldorado' , Is being released in October 2021, on The DNS Records Group, featuring their hit singles, "Rabbit Hole", "The Fall, & "You", having over 1.2k followers on Spotify, etc they're Single "Rabbit Hole" & accompanying Video, has over 30k streams & Views, which was released May of 2021. The Ghost Town Rebellion have been voted Sacramento's #1 live Rock Band since 2018, and deliver a Live Show 2nd to none! You can find Ghost Town Rebellion on YouTube, Facebook, Instagram, Spotify, and Apple Music.
4:45 pm – Dog Party Dog Party is a California-based, indie rock'n'roll band, composed of sisters, Gwendolyn and Lucy Giles. Compared with bands like The Go-Go's, The Ramones, The White Stripes, and The Runaways, Dog Party establishes their own unique west coast sound with a dash of punk and a sprinkle of pop. With 6 records and extensive touring under their belts, Dog Party has been active since 2007. In fall of 2016, they were the Special Guests on Green Day's Revolution Radio North American tour. You can find Dog Party on YouTube, Facebook, Instagram, Spotify, and Twitter.
Thank you to all the artists to performed on our Virtual Stage for Chalk It Up 2020!  
Please visit our YOU TUBE PAGE to see the Chalk It Up 2020 Virtual Stage.