2023 Festival Volunteer FAQs
We are THRILLED to bring the annual Chalk It Up! Chalk Art & Music Festival back to Fremont Park this Labor Day Weekend, September 2-4 2023… our 33rd year! The festival activities inside the park – music, vendors, etc. – open at 10:00 AM and close at 6 PM all three days of the festival – Saturday, Sunday, and Monday. Set up begins on Friday. Tear down starts on Monday afternoon.
WHERE: Fremont Park, 1515 Q Street, Midtown Sacramento. Fremont Park is a full city block between 15th and 16th, and P and Q Streets, in Midtown, Sacramento.
PARKING/TRANSPORTATION:

Street parking is very limited throughout Midtown. The S+P Parking Lot at 15th and R Streets is just one block away, and they are offering a flat rate of $12 for the whole day.
Sac RT is offering FREE bus and light rail service over Chalk It Up Weekend! Visit https://www.sacrt.com/apps/sacrt-free-ride-flyers/ to see the flier for more information!
Sacramento Area Bicycle Advocates will provide complimentary Bike Valet parking, sponsored by Sutter Health.

VOLUNTEERS NEED TO BRING:

Sunscreen, sunhat
Comfortable shoes
Refillable water bottle
Lunch, snacks, or money to visit the vendors
Students: School paperwork for signatures
Optional: camp chair or blanket for breaks or hanging out before/after shift

CHECK-IN: Please see the Information and Volunteer Registration Booth in the center of the park near the playground and Buddha sculpture to check in and get volunteer information as well as volunteer paperwork signed for your school or organization.
STUDENT VOLUNTEERS

Ages 14-18: Please bring your "in case of emergency" phone number and name for check-in.
Volunteers age 13 and under must be accompanied by a parent or guardian.
BEHAVIOR EXPECTATIONS: We are grateful to all the local high school students who give their time at the Chalk It Up Festival. Please remember that you are not only representing yourself, but you are also representing your high school and the entire Chalk It Up community. Please put your best face forward and use your best judgment when interacting with the public. Thank you!

WHAT TO EXPECT:

Chalk It Up is high-energy and fun! Volunteers get to see the art, listen to the music, and visit the vendor booths and the food trucks, all while helping to put on the festival.
Since 1991 the Chalk It Up Festival has been free to the public because of the support from our volunteers. We are the last FREE, FAMILY-FRIENDLY festival because of your hard work! WE THANK YOU FOR YOUR HARD WORK AND SUPPORT!!!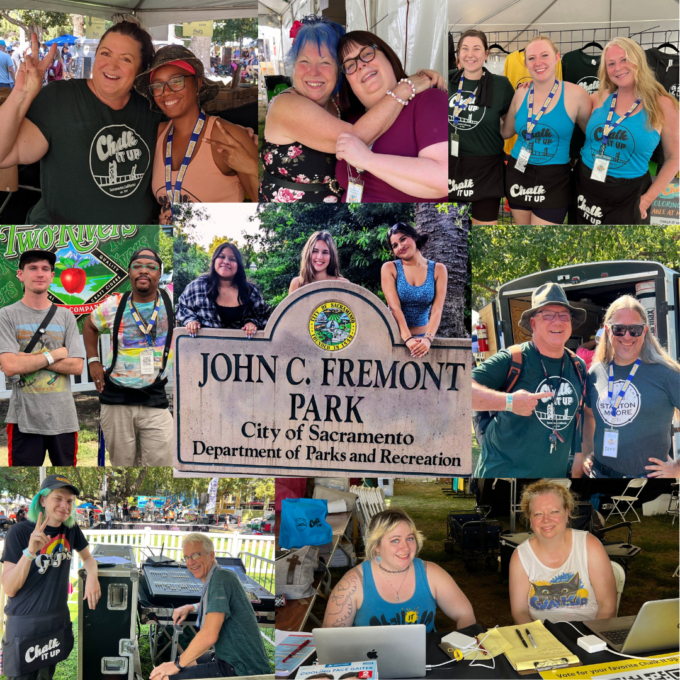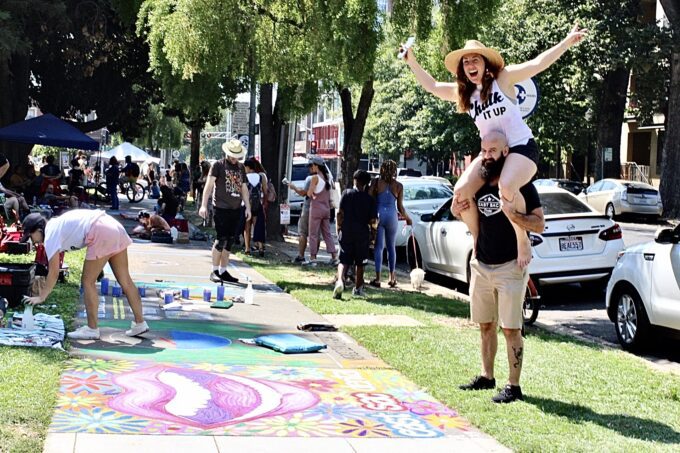 Some of the volunteer jobs at the Chalk It Up Festival include:
MORNING OPENING: Help to refill water stations, remove barricades that block park walkways, check restrooms and hand-washing stations
AFTERNOON CLOSING: "Close" the park – move barricades, hang caution tape, secure merch tent
PHOTOGRAPHY – SOCIAL MEDIA SUPPORT: Help us tell our story in pictures! Volunteers who enjoy social media and taking photos will use their own camera or cell phone to capture the festival and share photos in jpeg format via Google Drive or email for our Social Media team to use during and after the festival.
PHOTOGRAPHY – ART TEAM: Working in pairs, the Art Team will assist photographer Megan in taking overhead photos of the chalk art murals.
VOLUNTEER and INFO STATION: Greet and check-in volunteers, answer questions from visitors, hand out sidewalk chalk to kids and families
BAND HELP: Help backstage by managing parking and parking passes for the bands while they load in and out
PICNIC AREA: Clean tables and keep picnic area clean, monitor trash and report if full, monitor water dispensers and report if empty
ROVERS – HELP AS NEEDED: These volunteers will help as needed, including delivering supplies to the stage, the artists, and the Volunteer and Info Booth
DOGGY STATION: Greet our 4-legged friends with fresh water, treats, waste bags, and take photos of our dog friends for #dogsofchalkitup on Instagram