Our Chalk It Up Grant Program offers grants to schools and organizations in need of funding for youth arts education programs. We fund mostly Title 1 schools on a biannual grant application cycle so that funding is coordinated with the Spring and Fall school semesters. Art departments in schools are typically underfunded. Chalk It Up Grants are often used to purchase much needed art supplies and while also allowing teachers and students to explore new mediums. We also fund non-profit youth organizations looking to include an art component to their programming.
For Spring of 2022 we were able to fund 8 Chalk It Up Grants!
Kennedy High School (Sacramento City Unified School District), Special Day Class for Emotional Disturbances, Teacher Robin Gunning: "The students in my SDC art class are working on creating 2D and 3D art this year using acrylic/watercolor paints and clay. We are slowly running out of materials for our projects and up cycling materials for our projects. We are currently using discarded records as our canvases. " Chalk It Up Grant: $500
Pasadena Avenue Elementary (San Juan Unified School District), 4th Grade, Teacher Lori Gomez: "I am looking for funding to purchase basic art supplies such as oil pastels, paint, paint brushes, watercolors, smocks and glue for my 4th grade students. I hope to enrich my student's love for art and at the same time create a cohesiveness in their relationships as they work together in creating beautiful artwork." Chalk It Up Grant: $345
Natomas Pacific Pathways Prep (Natomas Unified School District), NP3 Art Club, Teacher Heather Higgins: "The NP3 Art Club's goal is unity and celebrate our diverse community through campus art projects. The plan is to create 2 murals on a wall (one is an 8′ art palette and the other a 4'x20′ panel wall). After, they will be focusing on painting the bathrooms to discourage the graffiti that has been happening this year. They want to use this art as a way to teach respect and pride of our campus as well as the beautification of some traditionally not so pretty areas." Chalk It Up Grant: $500
Alice Birney Public Waldorf (Sacramento City Unified School District), Teacher Nathaniel Melman: "We would like to bring a chalk festival to our school to get everyone out of their classrooms to create art together. We hope to give our community space and time to enjoy being outdoors together expressing themselves creatively. After being home for so long during the Covid shutdown, we all need opportunities to experience joy as a community, all while working together to create ephemeral works of art that will leave lasting memories. The act of making art is a healing activity. We have much healing to do as individuals and as individuals that are part of a community." Chalk It Up Grant: $500
Kennedy High School (Sacramento City Unified School District), Teacher Danilo Campos: "Art Journals for students. The purpose of the grant is to provide students the opportunity to create an art journal to document their experience, ideas, sketches in a visual form. In sum, the art journal would be akin to a diary but include more visual elements. Art often serves as a therapy, and although this is not my intent; perhaps an art journal can serve as an outlet for students to visually record their emotional states, especially during these uncertain times. Additionally the Art Journal serves as a creative outlet to reflect on daily goings on, which hopefully serves as impetus for participants to pursue more artistic endeavor in the future." Chalk It Up Grant: $1200
Sacramento Community Arts & Education (Non-Profit), Director Barbara Ray: "We will help our students create a Musical Puppet Show, including 2 weeks of workshops, two teachers, materials to create a puppet stage. " Chalk It Up Grant: $500
Tahoe Elementary School PTA, (Sacramento City Unified School District Parent Group), PTA President Rebecca Wiegand: "We hope to hold a 'Cookies and Canvas' art night at Tahoe Elementary School, once parents are allowed back on campus more in the second half of the school year. Our event will bring Tahoe students (EK-6 grade, Title 1 children) to the school in the evening, with a parent, sibling, grandparent, or other adult, where they will get to create art together! We will use funds from Chalk It Up to show parents how we run our Art Docent Program with their children – learning about an art topic or theme and then getting to create their own, guided version of it themselves and with the benefit of doing it alongside their own student. " Chalk It Up Grant: $500
Natomas Charter School Leading Edge Academy Expressive Arts (Natomas Unified School District), Teacher Jenell Novello: "This grant is to fund a Shoe Design and Engineering Challenge for middle school students. This unit will expose students to the industry of fashion and design in addition to the process Design Thinking through an Engineering Challenge through an extensive shoe design and implementation process." Chalk It Up Grant: $250
The Chalk It Up Grant Program provides funding for arts education to schools and nonprofit organizations that provide or support youth arts programs. This grant is open to all organizations and groups that have demonstrated a need for funding and a commitment to the arts.
Important Dates
IMPORTANT DATES
Session 1: Applications accepted May 20th to July 14th with funding by mid-September.
Session 2: Applications accepted November 3rd to December 8th with funding by mid-February.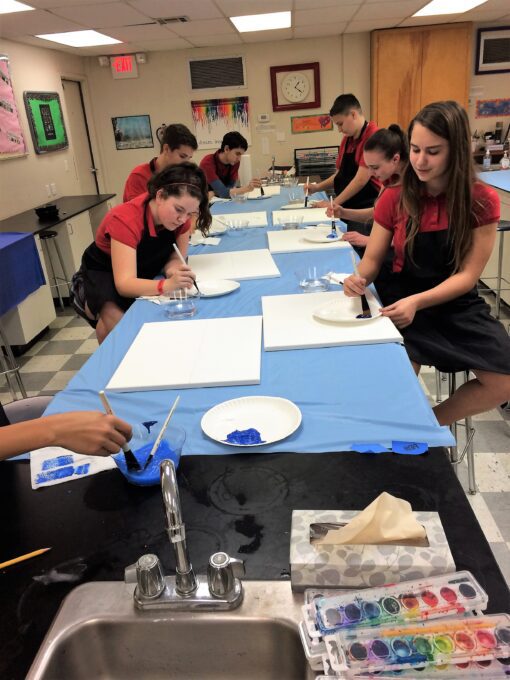 Grant Guidelines
Chalk It Up accepts grant applications for the following areas:
Arts programming including classes, workshops, or training
Art materials, equipment or tools for classes
Transportation expenses for arts-related field trips or programs
Speaker or guest artist fees
Attendance fees for artistic productions, performances, classes, workshops, museums visits, etc.
Use of Funds
Funds may not be used to replace funds for the staff or school personnel
Funds may not be used for celebration supplies, food, or refreshments
Chalk It Up reserves the right to ask for proof of payment, attendance, or participation for all funded grant proposals
Funds may only be used for the purposes listed in the grant application
Eligibility
Grants are open to organizations based in the Sacramento region currently providing arts education, support, and training for K-12 youth
Nonprofit or tax-exempt agencies including educational and religious institutions may apply
Projects must provide participatory learning and creative guidance aimed at developing student's artistic senses
Projects may be in any artistic discipline
Projects must be led by or have significant involvement from experienced artists or arts educators
How much can we ask for in our grant application?
Our grant program funds applicants up to $500
When does our organization receive the funding?
After submitting your grant application, Chalk It Up will contact you with our decision. If your application has been approved, you will receive a letter as well as a check in the mail within 2 weeks of September or February depending on the session.
What happens after we have received the grant?
Please send Chalk It Up documentation (receipts, invoices, pictures, etc.) as you spend your CIU funds for our records. Please send pictures, videos, testimonials, or anything else that can show CIU and our audiences how our grant has impacted you and/or your program.
Questions? Contact us at info@chalkitup.org