Our Chalk It Up Grant Program offers grants to schools and organizations in need of funding for youth arts education programs. We fund mostly Title 1 schools on a biannual grant application cycle so that funding is coordinated with the Spring and Fall school semesters. Art departments in schools are typically underfunded. Chalk It Up Grants are often used to purchase much needed art supplies and while also allowing teachers and students to explore new mediums. We also fund non-profit youth organizations looking to include an art component to their programming.
The Chalk It Up Grant Program provides funding for arts education to schools and nonprofit organizations that provide or support youth arts programs. This grant is open to all organizations and groups that have demonstrated a need for funding and a commitment to the arts.
Session 1: Applications accepted May 20th to July 14th with funding by mid-September.
Session 2: Applications accepted November 3rd to January 8th with funding by mid-February.
Grant Guidelines
Chalk It Up accepts grant applications for the following areas:
Arts programming including classes, workshops, or training
Art materials, equipment or tools for classes
Transportation expenses for arts-related field trips or programs
Speaker or guest artist fees
Attendance fees for artistic productions, performances, classes, workshops, museums visits, etc.
Use of Funds
Funds may not be used to replace funds for the staff or school personnel
Funds may not be used for celebration supplies, food, or refreshments
Chalk It Up reserves the right to ask for proof of payment, attendance, or participation for all funded grant proposals
Funds may only be used for the purposes listed in the grant application
Eligibility
Grants are open to organizations based in the Sacramento region currently providing arts education, support, and training for K-12 youth
Nonprofit or tax-exempt agencies including educational and religious institutions may apply
Projects must provide participatory learning and creative guidance aimed at developing student's artistic senses
Projects may be in any artistic discipline
Projects must be led by or have significant involvement from experienced artists or arts educators
How much can we ask for in our grant application?
Our grant program funds applicants up to $500
When does our organization receive the funding?
After submitting your grant application, Chalk It Up will contact you with our decision. If your application has been approved, you will receive a letter as well as a check in the mail within 2 weeks of September or February depending on the session.
What happens after we have received the grant?
Please send Chalk It Up documentation (receipts, invoices, pictures, etc.) as you spend your CIU funds for our records. Please send pictures, videos, testimonials, or anything else that can show CIU and our audiences how our grant has impacted you and/or your program.
Questions? Contact us at info@chalkitup.org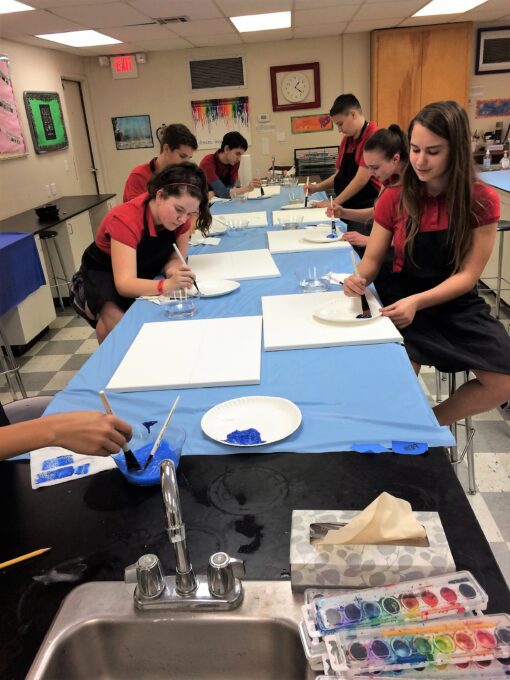 Sketchbook Diary Project Report
By Danilo Campos, John F. Kennedy High School, 2021-2022 school year
The Chalk-It-Up Grant was able to fund 30 students at John F. Kennedy High School (JFK) to take part in the Sketchbook Diary Project. These included 8 seniors, 9 juniors, 12 sophomores, and 1 freshmen, with a breakdown of 22 females, 7 males, and 1 non-binary. Recruitment for the Project was advertised through the school bulletin for a two-week period, on a first-come-first-served basis. But after the first day of announcement all the slots were filled, and many students were turned away. The project participants came from a variety of backgrounds with many enrolled in art, language arts, and special education classes. Each participant was given a Moleskine sketchbook and Winsor & Newton Watercolor set to record their daily musings or sketches in hopes that it provides them with a creative and mental outlet.
A major rationale for the Project was to help students cope with mental health issues. Nationwide, even before the pandemic, there was a growing concern over adolescent mental
health problems, with the increase of numbers of depression and suicides among teens. The pandemic has exacerbated the situation further as it has forced teens into isolation with no outlet for social interaction save through the internet. In addition teens faced stressors that affected their families. As such when school re-opened it was hoped that a diary could serve as suitable format for students to express their feelings, emotions, while serving as a vehicle for creative outlet. After all, diary-writing and sketching is often used by counselors, art therapists and other mental health professionals in their workings with clients.
Here are some of the quotes from the students who particpated in the project:
"I use the sketchbook diary by writing what my past and future dreams were. I also used it by writing my inner feelings in the sketchbook. I plan to use it by writing more of my happy memories in this sketchbook diary. I find it relaxing because having this diary relieves my stress and anxiety." (Lee Maeh)

"I used my sketchbook diary and it helped me become more creative." (Yasmin)

"[I was] planning out character designs, anatomy sketches, doodles, tattoo designs, nature sketches, portraits, graphic design projects. Since I want to be a graphic designer having a diary was important for creating new concepts and planning out different character designs. I also found having a travel-diary easily accessible (not to mention free) and very advantageous for drawing/creating at school, work, basically anywhere I have time—without much difficulty." (Lou)

"I use my sketchbook in my spare time. I use it to draw random things like the scenery I see, or the food/snacks I eat or just things that comes to my head." (Annie)

"I used my diary to write poetry and draw small images behind each poem. It got me out of some writer's block. The diary encouraged me to get my thoughts down on paper and make poems out of those thoughts. It basically gave me a canvas to finally work on." (Joshua)

"I use my sketchbook diary to paint, draw, and to write down anything that comes to mind. One thing I find helpful about having this diary is that it is one way I express
myself. By painting, drawing and writing my feeling." (Marina)

"What I found most useful is that I was able to express myself in those pages and be creative. The process was fun and the results were rewarding to look at. The diary also
helped me to improve my mood because I would occasionally look at the pages I've painted and sketched in and it helped boost my mood. If I didn't draw or paint on my
sketchbook or had this sketchbook I would be reminded of my mood for weeks, months or over the year." (Ximena)

"Usually I use my sketchbook to sketch and rant out my thoughts. One thing I find this diary helpful is that I can sketch out my ideas." (Mandy)

"I use my sketchbook as a way to convey my emotions into art. On days I don't feel great I usually will pull out my sketchbook and start drawing how I feel, a lot of it is sort of subliminal? Not sure if that's the word for it. It's nice to be able to draw what I'm feeling and listen to music as I tune out the world along with having the paints to color them in if I choose to or not." (Nico)