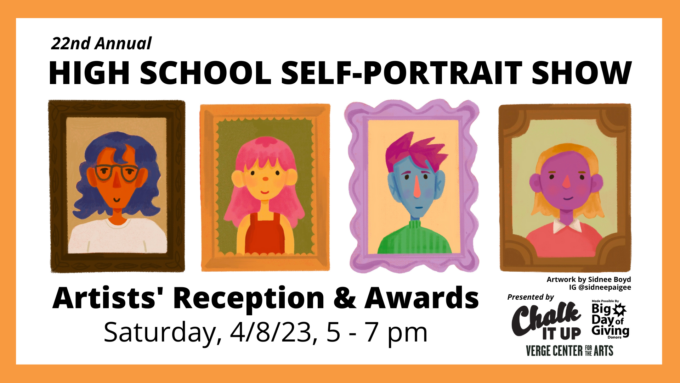 The 22nd Annual High School Self-Portrait Show will be on display through at Verge Center for the Arts through the third week of April. Students, teachers, families, and the community are all invited to join us for our 2nd Saturday Artists' Reception and Open House on Saturday, April 8, 2023, from 5 to 7 pm.
Thank you to all of our local high school artists for submitting their work, and a special thank you to our local high schools and high school art teachers for all that you do to empower and support the next generation of artists.
Click HERE to see the full list of participating artists.
NEW! For 2023: The "Best in Show" artist will receive a scholarship prize of $1000!
Thank you to James Ferry (1933 – 2020) for starting this tradition. Special thanks to Findlay McIntosh of Christian Brothers High School, and Verge Center for the Arts for joining hands with Chalk It Up to keep this annual tradition going for another year!
High School Art Teachers – contact us at info@chalkitup.org if you have any questions. Interested students should share this with your art teachers.
High School Self Portrait Show
Athletes have games, actors put on shows, and musicians have concerts, but visual artists have few opportunities to showcase their work in a professional setting. The High School Self-Portrait Show gives the very best high school artists a chance to display their art for the Sacramento community. This annual event was started by James Ferry, of the 20th Street Art Gallery, and Findlay McIntosh, Art Teacher at Christian Brothers High School, in 2001, as a way to showcase the self-portraits of high school artists within our region.
High school teachers throughout the Sacramento area assign a Self Portrait project to their students, and choose a few from each class to submit for the show. The show is displayed for the community in a gallery, and a cohort of local artists, art educators, and the Chalk It Up executive board choose the award winners. Awards are provided by Chalk It Up for Best in Show, Best in Medium, etc.