About the High School Self Portrait Show
We are thrilled to announce the Hacker Lab is the new home of the High School Self-Portrait Show!
This annual event was started by James Ferry, of the 20th Street Art Gallery, and Findlay McIntosh, Art Teacher at Christian Brothers High School, in 2001, as a way to showcase the self-portraits of high school artists within our region.
Athletes have games, actors put on shows, and musicians have concerts, but visual artists have few opportunities to showcase their work in a professional setting. The High School Self-Portrait Show gives the very best high school artists a chance to display their art for the Sacramento community.
High school teachers throughout the Sacramento area assigning Self Portrait assignments to their students, and choose a few from each class to submit for the show.
Thank you to James Ferry (1933 – 2020) for starting this tradition.  Special thanks to Findlay McIntosh of Christian Brothers High School, and the Hacker Lab, for keeping this annual tradition alive.
High School Art Teachers – contact us at info@chalkitup.org if you have any questions. Interested students should speak to their art teacher for more information.
Chalk It Up participates in numerous community events throughout the region with organizations like the Sacramento Zoo, Visit Sacramento, Downtown Sacramento, Explore Midtown, and more.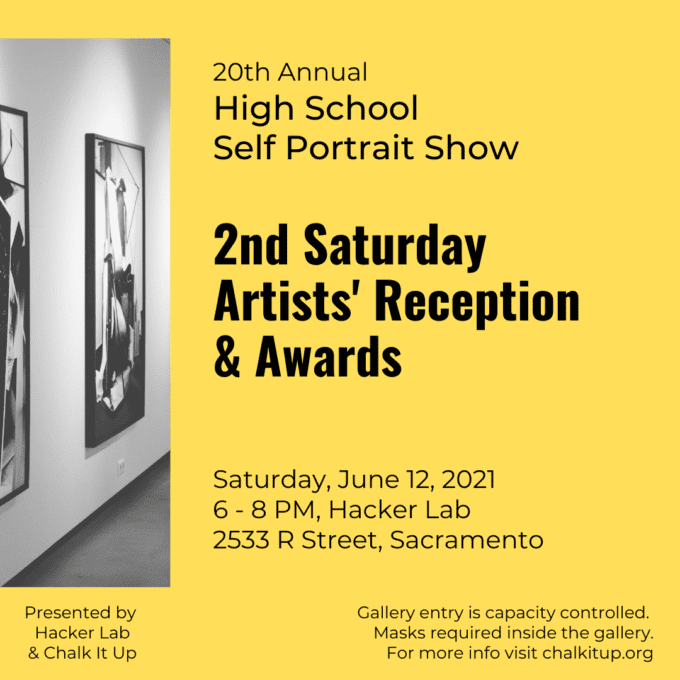 2nd Saturday Artists' Reception and Awards Presentation
Saturday, June 12, 2021
6 – 8 PM
Hacker Lab,  2533 R Street, Sacramento
This is the 20th Anniversary of the High School Self Portrait Show. Art students from high schools throughout the region will submit their work to be on display in the Hacker Lab for the month of June.
Join us on 2nd Saturday, June 12, as we celebrate these student artists and their dedicated teachers. The reception will be held outside in front of the Hacker Lab, with capacity-controlled entry into Hacker Lab to view the student artwork. Masks are required to enter the Hacker Lab.
Student artwork will be available for purchase. Hacker Lab staff will be available to provide tours of their facilities.  Thank you to all at the Hacker Lab for providing their gallery space for this event!
For more information, please contact us at info@chalkitup.org.