Vendor Pricing for the 3-day Chalk It Up Festival
Artisan/Craft Vendors: Single Space – (1) 10 x 10 ($350.00), Double Space – (2) 10 x 10 ($700.00), Triple Space – (3) 10 x 10 ($1,050.00)
Food Vendors: Stationary Food Vendors – Single (1) 10 x 10 space ($500.00), Food Trucks – (1) ($1,200.00)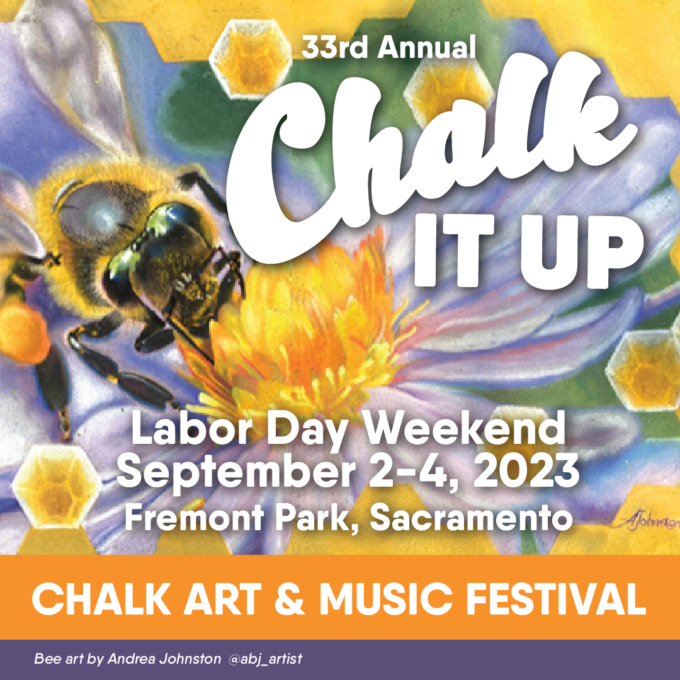 Food and Marketplace Vendors will be included in printed and online map. These samples are from the 2022 festival:

Chalk It Up Festival Vendor Guidelines
SIGN UP & CONFIRMATION
Limited vendor spaces are available
Chalk It Up reserves the right to select the most appropriate vendors from the applicant pool to ensure a diverse mix of quality artisan items for the festival
No commercial or franchised items, buy-sell or important products unless fair trade or otherwise approved. Craft vendor items must show unique and creative design and capture the essence of the crafter or artist
Vendors notified of their selection status have until July 15 to submit payment
Vendor spaces without accompanying payment will be offered to other vendors on July 16
PAPERWORK
All vendors must be able to provide a current Insurance Certification and Sellers Permit (craft) or Business Permit (food)
Chalk It Up must me named as additionally covered on your vendor insurance. Many of our vendors get their vendor insurance through ACT insurance
Food Vendors must also be permitted with the Sacramento County Environmental Health Dept. as a Multi-Event Vendor (MEV) or a Food Truck (MFF)
Limited TFF's (Temporary Food Permit) will be available for an additional $100 fee but this must be requested with your application
ONSITE INFORMATION
All Stationary Vendors will have space for a 10×10 pop-up tent or canopy (unless additional space is worked out in advance.)
There will be limited space between vendors
Vendors are required to have items needed for their booth, including a tent/canopy, tables, chairs, etc.
Electricity may be provided by the city but is not guaranteed
Gas generators are not allowed, however battery powered is acceptable.
Additional information to follow after payment confirmation
SET UP & SECURITY
Vendor set-up is on Friday, September 1, 2023 between 1 pm and 7 pm.
Food trucks must arrive on Saturday between 7:30am and 8:30am to allow for positioning and to be ready for 9am inspection.
On Sunday and Monday, food trucks must arrive by 9am to be in position by 10am.
Chalk It Up has 24-hour security onsite beginning Friday; however, Chalk It Up is not liable for vendor revenue, merchandise, and/or equipment.
FESTIVAL RULES
External generators are not allowed. Batteries are allowed, as are Food Trucks with on-board generators.
Chalk It Up is committed to being good global citizens and requires that no Styrofoam or other non-recyclable or non-compostable items be distributed. Please ask your supplier about "green" alternatives.
You must take all of your waste with you at the end of each day, or take it to one of our appropriate dumpsters. Do not fill our garbage containers in the park.
Please have all of your necessary paperwork onsite.
There is no parking available on the street around Fremont Park. Vendors should be prepared to find neighborhood street parking or utilize the lot at 15th & R Streets. Vendors who are parked illegally will be towed. Chalk It Up is not responsible for vendor parking.
Vendor vehicles can drive into the park after 1 pm on Friday for load-in, and after 6 pm on Monday for load-out.
FOOD VENDOR REGULATIONS
As stated in the FESTIVAL RULES, please use eco-friendly alternatives for serving. Look into having compostable spoons, forks, knives, cups, serving boats, and straws! We have specific waste containers for compostable and recyclable items. Help us replace our landfill items with recyclable items!
Food vendors must dispose of their cooking waste off-site. Chalk It Up reserves the right to remove vendors who improperly dispose of waste-water, or grease.
All Food Vendors must have a fire extinguisher. – Min. size: 2A 10 B: C-5lbs – Vendors with Deep Fat Fryer must have a K type extinguisher.